| | | | |
| --- | --- | --- | --- |
| Workshop organization at IEEE Intelligent Vehicles Symposium (IV'19) | | | |
{jfalternative}94|content|

There are no translations available.

{/jfalternative}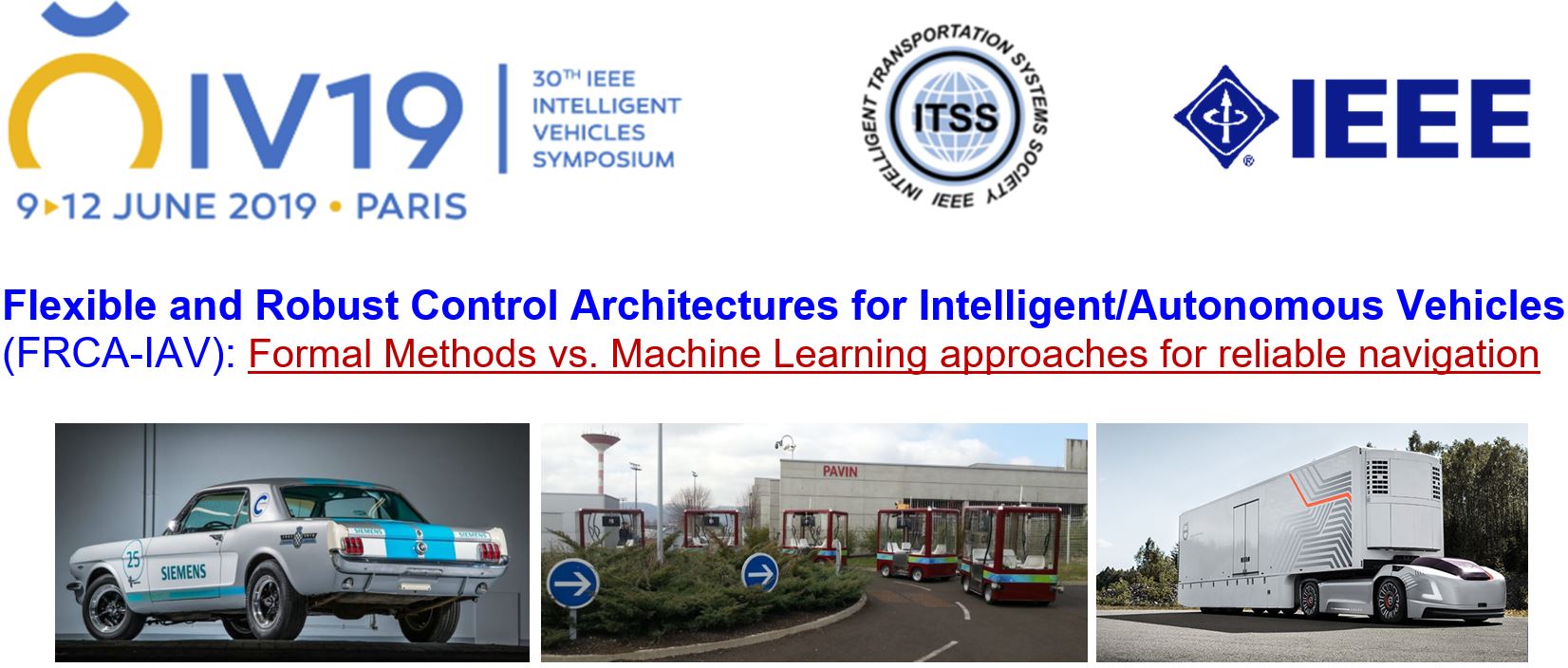 Workshop Program -- 13:30-17:30 
Preliminary program, may be subject to changes
| | |
| --- | --- |
| 13:30 - 13:40 | Welcome & Introduction  |
| 13:40 - 14:30 | Keynote speaker 1 talk: "Verifying Autonomous Vehicles with Unverifiable Software" (more details)  |
| 14:30 - 14:50   | (paper 1) "Multi-Controller Architecture for Reliable Autonomous Vehicle                         Navigation: Combination of Model-Driven and Data-Driven Formalization" |
| 14:50 - 15:10   | (paper 2) "Algorithmization of constrained monotonic maneuvers for an                         advanced driver assistant system in the intelligent urban buses" |
| 15:10 - 15:40 | Coffee Break  (30mn)  |
| 15:40 - 16:30 | Keynote speaker  2 talk: "Multi-Sensor Fusion for High Integrity Localization: how to bound estimation errors?" (more details) |
| 16:30 - 16:50   | (paper 3) "Validation of Perception and Decision-Making Systems for                        Autonomous Driving via Statistical Model Checking" |
| 16:50 - 17:10   | (paper 4) "Interval-based/Data-driven Risk Management for Intelligent Vehicles: Application to an Adaptive Cruise Control System" |
| 17:10 - 17:30 | (paper 5) "How to Improve Object Detection in a Driver Assistance System                        Applying Explainable Deep Learning" |
| 17:30 | Closing  |
Short Description: This workshop aims to focus on the advantages and limitations of using different kinds of innovative control architectures for autonomous vehicles: based on formal approaches or/and based on machine learning. Submissions illustrating synergetic combinations of these two general methodologies, to obtain a flexible and robust navigation of vehicles in complex environments/scenarios, are in a special interest of the workshop.
Keywords: Intelligent/autonomous vehicles, flexible and robust control architectures, short- vs. long-term planning, long-term autonomy, flexible navigation/maneuvering, reliability guarantees, motion algorithmization, risk assessment and management, connected and cooperative vehicles, model-based approaches, data-driven approaches, ADAS.
Important dates:
Workshop paper submission deadline: February 7, 2019
Notification of workshop paper acceptance: April 5, 2019
Final workshop paper submission: April 26, 2019
Workshop date: June 9, 2019
During the submission phase, it is important to mention the code: FRCA-IAV (corresponding to the acronym of the workshop).
More details on the workshop details, motivations, main topics of interest and global organization are given though this link.
Workshop organizers:
- Lounis Adouane, Institut Pascal, UMR CNRS 6602 UCA/SIGMA, Clermont-Ferrand, France 
This e-mail address is being protected from spambots. You need JavaScript enabled to view it
http://lounisadouane.online.fr
- Maciej Marcin Michalek, Institute of Automation and Robotics, Poznan University of Technology, Poznan, Poland
This e-mail address is being protected from spambots. You need JavaScript enabled to view it
http://maciej.michalek.pracownik.put.poznan.pl
- Antonios Tsourdos, Centre for Autonomous and Cyberphysical Systems, Cranfield University, United Kingdom
This e-mail address is being protected from spambots. You need JavaScript enabled to view it
https://www.cranfield.ac.uk/people/professor-antonios-tsourdos-746615
Last Updated on Thursday, 30 May 2019 06:45